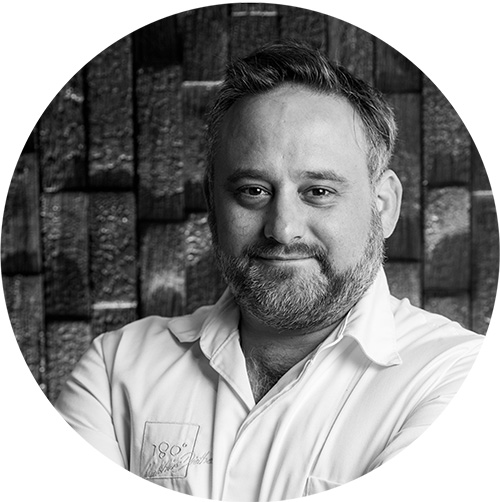 —

Matthias Diether
— Executive Chef
Born in Berlin and raised in southern Germany, Matthias Diether found his passion for cooking, helping out at his uncle's restaurant during weekends and school holidays. He gained his professional knowledge with the great German chefs Lothar Eiermann, Harald Wohlfahrt and Dieter Müller, and managed gourmet kitchens in Dubai for the Ritz Carlton, the Emirates Palace and the Shangri-La. In 2010 he founded his signature restaurant First Floor in Berlin, where he was able to perfect the elegant and artistic cooking style which he is known for today.
His passion for French cuisine shows itself with his modern and individual interpretations, incredible subtleness and opulence are the features that made him the culinary favourite in Berlin. Today he is establishing his culinary home in Estonia, having worked at Pädaste manor on Muhu Island, and found inspiration in Estonia's unique regional cuisine.
The elegant menu from 180° by Matthias Diether delivers on clean and intense flavours. Modern European cuisine served with exquisite attention to detail and immaculate presentation.
"My credo is to give my fullest, together with my team, – every single day – to surprise our guests with sophisticated culinary creations which are both inspiring and a joy to eat. I love to use only authentic, fresh products of the highest quality, to try out different textures and, at times, unexpected combinations. All that we prepare should speak for itself, and for me this means that produce is the true star on the plate, without much need for fuss. My creations are clear, tasty and presented in a creative and contemporary way," is how Matthias Diether describes his beliefs.
—

Bart Dufour
— General Manager
Bart Dufour, a hospitality veteran with over 25 years of experience in the industry has joined 180 Degrees as General Manager.
His journey in the Hospitality Industry started at an early age in his native country Belgium. Having the chance to work at several Michelin star restaurants, were the building blocks for his future career. His passion for wine and travel brought him onboard the world most awarded luxury cruise line, Crystal Cruises. He started as a Sommelier and ended up running the entire wine program.
In addition, his travels brought him to the US where he was Food and Beverage Manager for Hotel Teatro and Restaurant Kevin Taylor in Denver, Colorado and Southampton, England at the Devere Grand Harbour.
After almost 20 years of traveling around the world Bart decided to settle down with his beautiful family in Estonia. Prior to his current role Bart served as the Food and Beverage Manager for Hotel Telegraaf and Restaurant Tchaikovsky.